Kumagusu's drawing of the room of his son Kumaya
(1924)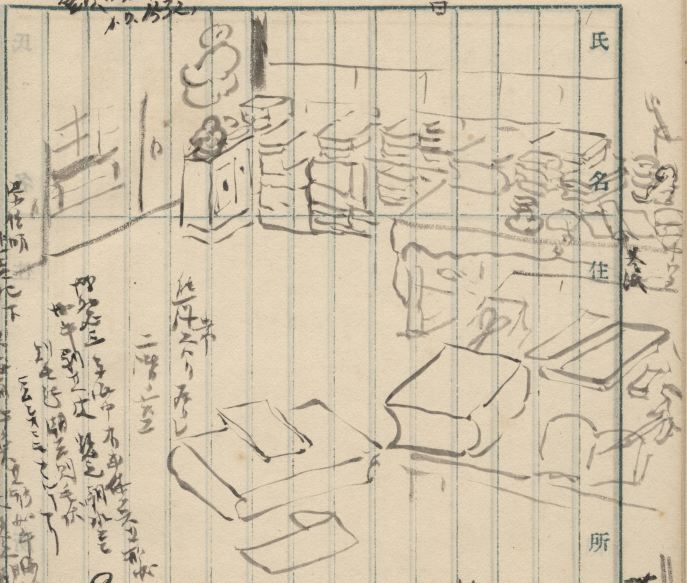 Photo: Kumagusu's drawing of the room of his son Kumaya (on the appendix page of his Diary, 1924) [© Tanabe City]
Kumagusu's diaries (altogether 60 books are still preserved in the Former Minakata Residence - Minakata Kumagusu Archives in Tanabe and Minakata Kumagusu Memoria Hall in Shirahama) contain huge amount of records on his daily activities, correspondences, as well as the meteorological and ecological observations. Occasionally the pages for each day were not large enough for his scrupulous recording, and much information were put out to the diaries' appendix pages for directory, accounting or notes.
The above image is one of such documents on the appendix pages of his diary of 1924, showing 'the room on the second floor which used to be taken by Kumaya', as Kumagusu noted in the middle-left of the page (various notes on his own reserach were seen around). Probably the scene is the south side of the second floor [next to the ground floor] of their house. Two desks are filled with and surrounded by books or school things, and the mascot tortoises are also seen on the desks.
Kumaya, Kumagusu's first (and only) son, had been caught by the mental attack (usually seen as having been Schizophrenia) in March of this year when he visited Kochi city to take the entrance examination for the high school there, taken back immediately, and was staying home before being attended to a hospital in Kyoto in 1928. During those days, Kumagusu always stayed near Kumaya, caring for him, and kept observing his movements on the diaries. The simple drawing of his son's school room is so tacit, nevertheless eloquent enough to suggest the dolorous Father's regret of his son's (and his own) lost expectations. (Tamura Yoshiya)
See Also: 'Minakata Kumaya 1907-1960' (in: Minakata Kumagusu: A Keyword Dictionary)
The material presented in this page is owned by Tanabe City, by whom all rights are reserved.