Epilogue: in Koya san
2003.10.19-20
Kumagusu had been familiar to Koya san holy mountain from his boyhood. In his days in London, he began corresponding with Togi Horyu, a prominent priest of the Mantra Buddhism who then stayed in Paris. In 1910 and 1911, Kumagusu conducted staying mycological researches in Ichijo-in temple, Koya san, where Horyu was at the highest executive position of the Mantra Buddhism, Koya school. Our tour after the trail of Kumagusu's mycological field works was to be finished in this holy mountain.
Photo by:Iwasaki ([I]), Matsui ([M]), Tamura ([TY])
Ichijo-in Temple, Koya san 2003.10.19
This Suiboku ink drawing, displayed in our dining room by courtesy of the manager of Ichijo-in, was drawn by Kusumoto Hideo (Ryusen), who assisted Kumagusu at the occasion of his second visit here (Oct 1911). In this portrait, Kumagusu stared grimly a mushroom (or Kusabira, in old Japanese word) in his hand. A haiku above his right shoulder means: Mushroom is my rival beyond a countless number of universal eras.
The Assistant Manager kindly took this photograph for us. Back row from left to right: Matsui, Iwasaki, Hagiwara, Tamura, Koike, Tanaka. Front (lying): Yasuda. On this Suiboku portrait, see: Kusumoto Hideo, 'One month in Koya' in:"Minakata Kumagusu Hyakuwa" p190. On the haiku therein, see: Kumagusu's self portrait - frontispiece of "Minakata Kumagusu Zenshu" vol 4 (a postcard from Kumagusu to Koaze Shiro, 3 Nov 1911).
Ichijo-in, frontal view [M] and a Buddhist dinner at 'Kado no ma (Room at the corner)' [I]. After spending a few hours at ease, however, a fierce argument was to resume on the design of database for Kumagusu's mycological drawings and collections.
Path to the heart of Koya san, Oku no in 2003.10.20
Though originally planted by men, the cedar trees in Koya san have lived over hundreds of years and grown so massive that even an elderly dignity could be felt. This massiveness and dignity, which could hardly be felt through pictures, do enhance the holiness of this congregation of temples.
Daimon Great Gate 2003.10.20
Master Kumagusu arrogantly looking upstairs. Retouched, for two persons in the middle had stood in wrong positions.[I] Image retouched by: Iwasaki Masashi.
Right: the real image of Kumagusu and his collegues [© Tanabe City], in front of the same Daimon, Aug 1910 (cf: "Minakata Kumagusu Zenshu" vol 4, frontispiece), at the occasion of their first stay. From left to right: Kawashima Sodo, Kumagusu, Koaze Shiro, Uno Kakuo. Probably taken by Sakaguchi Soichiro. See also: Sakaguchi Soichiro, 'Koyasan Zuiko Ki' in: &quo;Minakata Kumagusu Hyakuwa" p181.
Master Kumagusu, followed by his assistants who want to be anonymous with plenty of collection tools, rambles to somewhere... [TY] Image retouched by: Iwasaki Masashi.
Right: the real image of Kumagusu and his collegues [© Tanabe City], taken on 9 Oct 1902 at Ikeda Photo Studio, Tanabe, to commemorate his botanical field researches in Nachi and Tanabe. Hamamoto Kumagoro (with balances) and Taya Katsushiro (with a large bag) behind. See: Kumagusu's Diary on the same day ("Minakata Kuamgusu Nikki" vol 2, p 284, the picture included).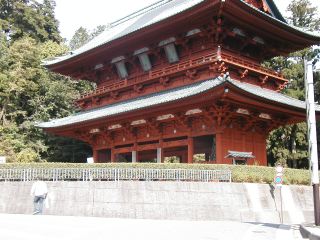 Men are so tiny before the mountainous scale of the Great Gate...[TY]
... and, when turning around, you find an endless extension of Hatenashi mountains which continues to far away.[TY]